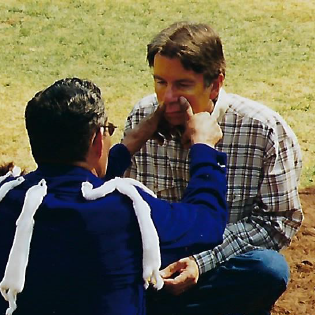 In honour of Dr. Gerald Sikapiistamix "Grey Bull" Conaty
A member of the Kanai Honourary Chieftainship, Dr. Gerald (Sikapiistamix "Grey Bull") Conaty was a senior curator at the Glenbow Museum in Calgary, and served as Director of Indigenous Studies. There, he shaped a respectful working relationship between the museum and First Nations that became a model for international museum practice. Gerry was instrumental in developing a program of repatriating sacred items held by the museum, ensuring that they could be returned to the First Nations communities where they could be part of a living culture. By immersing himself in this culture, learning from elders, and by listening, Dr. Conaty developed strong friendships over the years. He sought to make the First Nations full partners in interpreting and presenting their culture.
Impact
This award was created by Dr. Robert (Otahko Ponokaomitaa "Yellow Horse") Janes and Mrs. Priscilla Janes and the University of Lethbridge to preserve the Blackfoot cultural legacies of four influential men while furthering educational opportunities for Blackfoot students.
The four awards, for both graduate and undergraduate level students from the Blackfoot Confederacy, are named in honour and in memory of Narcisse (Tatsikiistamik "Middle Bull") Blood, Gerald (Sikapiistamix "Grey Bull") Conaty, Allan (Mi'kskimmiisoka'simii "Iron Shirt") Pard, and Frank (Miiksskim "Iron") Weasel Head.