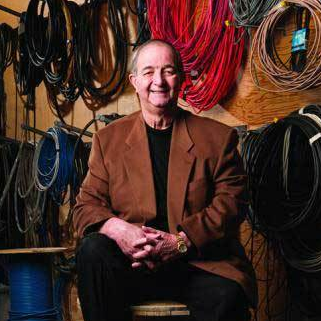 Del Allen
Del was born in Medicine Hat on March 29, 1943 and his parents moved to Lethbridge when he was a baby. He grew up in southern Alberta and quit school to take a job at a sawmill in the Porcupine Hills. A couple of years later, he came back to Lethbridge and started apprenticing to become an electrician. Del established D.A. Electric with his brother Don in 1975 and it quickly grew into a successful regional enterprise. The success of D.A. Electric, combined with Allen's values and sense of community, allowed him to support and help provide direction for many local groups, including the Boys and Girls Club of Lethbridge and District, Lethbridge Chamber of Commerce, Lethbridge Construction Association, the Interfaith Food Bank and numerous sports organizations. He was given a "Key to the City" and was chosen Lethbridge Citizen of the Year for 2008.
Del also generously supported further education through donations to post-secondary institutions, including funding for University of Lethbridge athletics and academic scholarships, and a sizeable financial commitment to the library in 1995.
Del passed away October 9, 2013 at the age of 70 years
Impact
Del Allen was the honouree of the 2012 Management Dinner, and the Del Allen Scholarship was established with the funds raised.